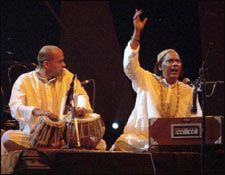 "Sabri Brothers weave qawwali magic"
Times of India, 12 February 2010
NEW DELHI: Unmindful of the cold winds that pierced the night, Pakistan's famous Sabri brothers and Delhi's own Niyazi brothers weaved magical
musical duets with strains of sufi music as they performed at Sathya Sai Auditorium on Thursday.
Thursday evening, which is usually dedicated by the Niyazi Brothers to the dargah at Nizamuddin, was instead spent regaling audiences with qawwalis at the Culture Curry series, organised by The Times of India as part of the ongoing Delhi Festival. Under dim yellow lights, Ghulam Hussain Nizami, Sultan Hussain
Nizami, Usman Ahmed and their troupe, accompanied by three of the youngest members of their family, churned out the most-loved songs of Amir Khusro, Bulle Shah and Nizamuddin Auliya.
"Qawwalis are the spirit of Sufi saints and through them, the spirit reaches out to God," said Ghulam Hussain before embarking on Qul Mankumtu Maula.
However, the hall, bursting at its seams with people occupying even the aisles, broke into loud appreciation when the trio embarked on the ever popular Dama Dam Mast Qalandar. 'Tumnein maikhana aankhon mein basa rakha hai, hosh walon ko bhi deewana bana rakha hai' set the tone for their other song, Chap Tilak.
The Niyazi brothers ended their half of the evening with another gem from their repertoire, 'mohe rang de' that one might remember as part of the song Jhim Min Jheeni from the film Maqbool. Whether it was their experience of stage performances or the fact that they read the audience well, the magic created by the Niyazi brothers refused to fade even when their music had ended and the last of the tabla beats had died down.
Thankfully, the evening was not to end with their performance and Delhiites welcomed on to the stage the Sabri brothers, who started their career in India but moved across the border during Pakistan.
Their opening act was a 'Hamd' a song sung in praise of God. Their subtle lessons in the unity of religions was played out in their music — 'parinde ke yahan firkaparasthi to nahin nahin hoti, kabhi mandir par baitha hai kabhi masjid par'.
The group, brothers Haji Farid and Haji Amin, accompanied by nephew Amir, ended the evening with some of their best-known music heard in Indian films, including 'der na ho jaye' from the film Heena.
toireporter@timesgroup.com